Please give to A Book for Every Child here: BFEC A charitable tax receipt will be issued for gifts of $20 or more. Charitable Registration 119024065RR0001
Remember – donations can be made online or at any Library location all year round and donations can be made in memory of someone or as a gift to celebrate a special occasion.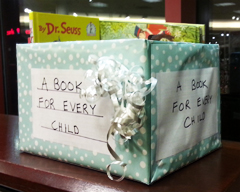 The 2020 Book for Every Child Campaign
A Book for Every Child® is a year-round London Public Library program, established in 1992, with an annual campaign during November and December. Books are distributed to children, who would otherwise not own a book, through agencies serving families and children. A Book For Every Child® promotes awareness of the importance of books in a child's life, supports family literacy and has a direct and lasting impact on children in our community. The A Book For Every Child® campaign distributes new books to local children through agencies that work with families in our community.
Every year many people make the campaign a success: generous Londoners who donate to the campaign, Library staff, staff at book stores, and Friends of the London Public Library volunteers.
2020 was the 29th year for this annual program and, once again, it was a great success, although COVID-19 made for a very different year. All of the requests made for books were filled, and a total of 4,794 books were distributed to children through the 29 schools and 13 agencies that work with families.
The role of Friends of the Library in this program was facilitating the participation of local bookstores from November 2 to December 12 2020. Four stores offered a 20% discount on books purchased for the A Book for Every Child: Chapters (South London), Coles (Masonville Place), Indigo (North London) and Oxford Book Shop (Piccadilly Street). Friends volunteers delivered promotional materials to the bookstores, then picked up books purchased and donated in the stores, delivering them to their local Library. Our thanks to: Hilary Bates-Neary, Karen & Doug Payne, Gail Turpin and Linda & Bob Wakefield. The total number of books donated at the bookstores was 215. Oxford Book Shop had more books donated than in each of the previous four years!
When promoting the program, the Library's focus was on financial donations as they allow library staff to purchase materials that meet the specific requests and needs of children from schools and agencies. Financial donations to the campaign were up; the total amount raised this year was $26,483.75. Friends of the Library donated $1,000.00 to the program.